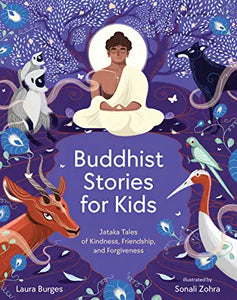 Long ago, the Buddha told his followers Jataka Tales, or "birth stories," about the many lifetimes he lived before he was born as Prince Siddhartha. In this beautiful retelling of ten such stories, the Buddha is introduced as the Queen of the Dogs, a loyal Parrot, a mischievous Monkey, a wise Lion, a brave Forest Owlet, and more.
 
Each story conveys important morals that are short, sweet, and to the point, giving children a handful of useful lessons to apply to their lives, like "Always try to do the right thing, even when no one else is watching."
 
These tales are brought to life with stunning and dreamlike illustrations  by Sonali Zohra (illustrator of 
Ashoka the Fierce),
 exploring in vivid detail how one's actions affect others; the importance of kindness; the strength of friendship; the value of thoughtful decisions; and the importance of letting go and learning to forgive. With a beautiful paper-over-board package to tie it all together, this book will serve as a timeless and treasured offering for both children and adults.