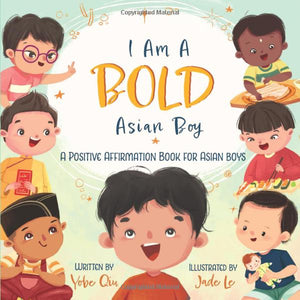 I Am a Bold Asian Boy is a story of confidence, courage, and culture. This book reminds young readers how to believe in themselves and pursue their goals. Discover opportunity and positivity on every page!
Author and educator Yobe Qiu has written this story to help Asian boys improve their self-worth and recognize their value. Read along with page-by-page affirmations. This Asian boy is balanced, beautiful, brilliant, and more!
I Am a Bold Asian Boy is perfect for readers aged 3 to 6, introducing concepts and ideas that support emotional wellbeing and a positive mindset. Colorful illustrations add to a message of optimism.
Help your child learn to appreciate their culture and build their confidence. Introduce your child to life-changing ideas, including gratitude, balance, courage, and positivity.
In I Am a Bold Asian Boy, young readers will discover:
Positive affirmations for Asian boys

Statements designed to improve confidence

Cultural empowerment and celebration

Bright illustrations that inspire happiness
Want to teach your child how brave and bold they can be? Read I Am a Bold Asian Boy. Add to your positive book collection with more affirmation books and resources from author Yobe Qiu.