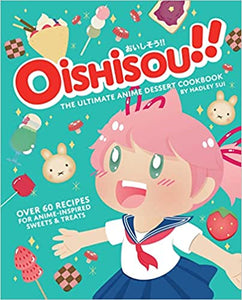 The world of anime comes to life in your kitchen with this adorable cookbook featuring over sixty recipes for desserts and treats inspired by the unique culture and motifs of this iconic Japanese art form. Recipes include traditional Japanese favorites (such as taiyaki and melon pan), memorable dishes depicted in popular shows (such as Rare Cheesecake from 
Cardcaptor Sakura: Clear Card
 and Hishi Mochi from 
Shirokuma Cafe
), and foods inspired by classic anime tropes and imagery (such as Valentine's Day Chocolates and Christmas Cake). Fans will be delighted to create and savor sweets and pastries featured in their beloved shows, as well as learning about the origins of these iconic confections. Featuring gorgeous food photography, 
Oishisou!! The Ultimate Anime Dessert Cookbook
 is the perfect gift for foodies, lovers of Japanese culture, and anime fans everywhere.

60+ RECIPES: Dozens of recipes for delicious desserts and pastries featured in a wide variety of anime series, all drawn directly from the unique confectionary cultures of Japanese festivals, bakeries, candy shops, cafes, and more!