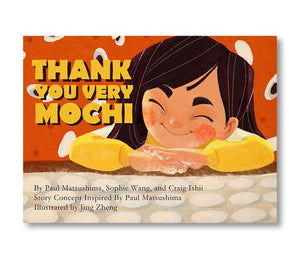 When Kimi and her family visit Grandma and Grandpa's house for New Year's mochitsuki (rice cake making party) they discover the mochi machine is broken. After initial fears that mochitsuki will be cancelled, Grandpa proposes an interesting, yet old-fashioned solution of making mochi the hand-pounded way.

This imaginative children's book will "pound" into children's hearts the importance of family relationships and cultural traditions.A family reading of this book is sure to become a holiday tradition of its own! Ages 4-8.
By Paul Matsushima, Sophie Wang, and Craig Ishii. Illustrated by Jing Zheng.
Vendor:  Lumbini's Garden